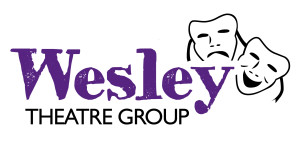 Wesley Theatre Group is an amateur theatre group.
We meet every Monday at 8pm in Wesley Hall and put on productions two to three times a year.
Our next production will be Some Anniversary – a murder mystery by Geoff Fulford – on Sat 1st July at 7.15 for 7.30pm. Murder Mystery Evening including a 3 course meal. Tickets £8 or £20 for a family of four (2 adults, 2 children) available from 01702 480968. Wesley Hall, Wesley Methodist Church, Elm Road, Leigh-on-Sea. Lift access available.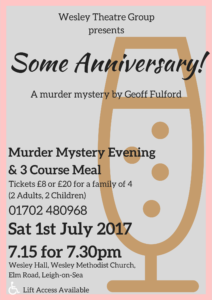 Wesley Theatre Group was formed in 1940 and in that time has put on a variety of productions, from plays to pantomimes and murder mysteries. Some of these include:
2017 – Playing for Time – a 12 hour readathon
2016 – Sudden Death at Thornbury Manor
Busybody
2015 – The Living Room
The Hitman
Cinderella
2014 – School for Murder
Trenches to Beaches
2013 – Steel Magnolias
Who killed the Holiday Rep?
Aladdin
2012 – Who Killed the Director?
Charles Dickens Evening
Exercise in Futility
2011 – The Day After the Fair
The King's New Clothes
2010 – Tiptoe through the Tombstones
The Farndale Avenue Housing
Estate's Townswomen's Guild's
Dramatic Society's Production of 'A
Christmas Carol'
2009 – The Camel's Back
Babes In the Wood
2008 – Old Time Music Hall
Blithe Spirit
Alice In Wonderland
2007 – The Farndale Avenue Housing Estate's
Townswomen's Guild's Dramatic Society's
Production of Macbeth
Ladies In Retirement
A Night At The Musicals
2006 – Sisters
Beauty And The Space Beast
2005 – Murder Mystery
Life Begins
Lord Arthur Saville's Crime
2004 – Is There Anybody There?
Jack and The Beanstalk
2003 – Steaming
Murder Mystery
Shake Rattle and Run
2002 – Black Chiffon
Concert
2001 – Nightmare
Sleeping Beauty
2000 – The Taxpayer's Waltz
About Face
One Act plays (plays written especially for the
Theatre Group)
1999 – Big Bad Mouse
The Last Yankee
1998 – Old Time Musical
Cinderella
1997 – Death on The Nile
Aladdin