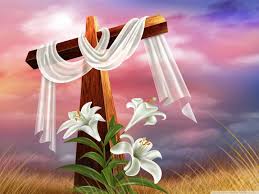 Easter, that wonderful time of the year when we can remember the sacrifice of Jesus for each of us, and celebrate our risen Saviour all in the same weekend!
I remember a few years back in one of my previous churches, having an Easter egg hunt in the service for the children.
Before the service, and before people arrived, some of the Sunday school teachers hid foil wrapped chocolate eggs around the church. When it came to the part of the service where the children took part in the hunt, there was much
fun and laughter as the one by one the eggs were found.
The service then continued.
Some 3 years or so later, the church was having a Spring clean and we used scaffold to reach the high parts of the church to dust etc. Upon looking down at the church, I noticed quite high up, something shiny on top of one of the pillars, and you've guessed it, it was an Easter egg never found from the Easter egg hunt all those years before.
Strangely though, nobody fancied eating it!!!
But this made me think.
How often have we been given the gift of Jesus at Easter and never unwrapped Him?
How many Easter services have we attended and never tasted the glorious riches He has for each of us because we've never unwrapped Him, or maybe never even found Him?
So, what is this gift?
'For God so loved the world that he gave his one and only Son, that whoever believes in him shall not perish but have eternal life. For God did not send his Son into the world to condemn the world, but to save the world through him.'
[John 3:16-17 NIV]
The gift then, is eternal life!
And unlike Easter eggs, the gift of Jesus never goes out of date or perishes; the gift of Jesus lasts forever.
May each one of us unwrap Jesus this Easter and fully experience His love and grace.
Easters blessings,
Pastor Steve