STATIONS OF THE CROSS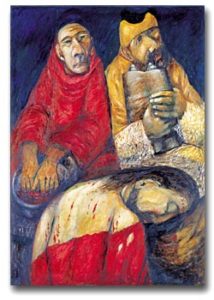 The Stations of the Cross are a traditional Christian devotion, begun by the Franciscans in the 17th century, to help pilgrims engage and meditate on the Passion of Christ. There are 14 stations or pictures in total, which begin with Christ being condemned to death and journey through to him taking up his cross; falling; meeting his Mother; being assisted by Simon of Cyrene; meeting the lamenting women of Jerusalem; being stripped of his clothing; being nailed to the tree; his death; his deposition and finally being laid in the tomb.
Whatever the form they take, whether they are small, plain wooden crosses with numbers on them, or flourishing baroque statutes, their intention has always been to enable people to meditate on God's grace. An invitation to people to contemplate their own value in the eyes of God, who would undergo this painful, humiliating, drawn out process, out of love for them.
At different times, faithful people have been asked to engage with the stations in different ways – with gratitude, compassion, penitence or sorrow – but always at the centre, pilgrims have been invited to look at the story of the God who loves us.
If this all sounds too gruesome for you, it's worth remembering that The Stations grew out of the same spiritual movement as the Crib Scene, which offers another take on the God who loves us and who is divinely generous towards us. The Franciscans wanted to bring a deeply human Jesus into the minds of the people they ministered to and to highlight the reality of political oppression, physical pain, mental anguish, and Jesus sharing in it all.
The form in which we now have the Stations, took a while to settle on. At one point 64 were recorded! But the traditional pattern we now have, comprise solely of Jesus' last day and his walk to the cross and can be undertaken like Him, within a single movement ending with his death. There has been much conversation in the past as to whether a fifteenth station depicting the resurrection should be added, but I think that they have got this right in resisting to do so. His friends all thought he was dead, and endured 3 whole days of waiting, anxiety, sadness and loss. We need to enter into that with them, if we too want to experience a fullness of joy with them. Moving straight to the resurrection feels like we skip over the hard part, as if we want to escape the realities of the world, rather than undergo a profound engagement with it.
This Easter you have two opportunities to engage with this form of Christian devotion. Anne Briant, a gifted abstract artist, is displaying 14 pictures, depicting her own spiritual walk with Christ that has taken her to the foot of the cross. It is thought provoking, heart felt and a deeply spiritual encounter with the Stations, and as you walk the way of Christ with her, she encourages you to reflect on faith, loss, redemption, and hope recovered.
The Stations will be on show at Wesley for Holy Week, beginning on Monday 10th April to Easter Saturday 15th April, open every morning from 10am – 12 noon, every evening from 6 – 8pm and all day Good Friday. And secondly, on Good Friday from 9 – 10.30am, we have the opportunity to join with St Clements to walk the Stations, as they have depicted them and placed them in shops and public spaces in the Broadway. This promises to be an interesting ecumenical venture, with Wesley Church being included in the walk as Station 8 on the procession round.
May God bless you richly this Easter as you invest in walking with Christ.  Amen
Rev Julia
He will walk a little in front of us towards Calvary.
He will not be scared; no he will not be scared.
He will feel the pain of wood and nails;
but more than this he will feel the weight of al the evil
all the malice, all the pettiness,
all the sin of the world
Heaped upon his shoulders
He will not throw off that weight, though he could!
He will not give back evil for evil,
return malice, for malice.
Take revenge on the petty minded
Or spew out hate
On all who have despised or rejected him
He will not give back the sin of the world
He will take it away…
Into death, into hell
So that he can lead us into heaven
Then he will go on again in faith, towards the resurrection.
He will walk a little behind us through the graveyard.
He will wait until we realize that he has died and admit our complicity in his life's ending.
Then he will come up behind us, and say our name, so that we can stay his forever. Amen