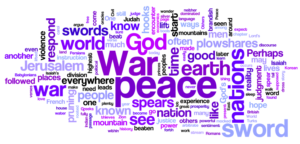 The radio is on in the background as I write, reporting that the Iraqi army and Kurdish Peshmerga fighters are converging on Iraq's second city, Mosul. It is estimated that 6000 ISIL fighters are trying to hide amongst the 1 million civilians including hundreds of thousand of children. As I listen to the reporting, I'm reminded of my pastoral visit yesterday where we talked about the conflict and I followed on with some wordy prayers. When I finished praying, I looked up to see tears in the eyes of the person I was praying with and they quietly with feeling said, "Poor devils – the children subject to the bombing – poor devils."
I could make noise with my lengthy prayers but here was someone who having lived through the London blitz as a child, could immediately walk in the insecure and uncertain shoes of a child in Mosul. He bought them before God in prayer with one heart felt, compassionate sentence. We went on to talked about the Blitz; the fear of not getting to the shelter in time; and hiding under the kitchen table, waiting for the sinister intermittent buzzing noise of the doodle bugs to cut out. Will it be us? Will it be our house today? No, not this time, as the explosion is heard further down the street. My friend recalled the experience with such immediacy and tension, the event could have been lived yesterday and eventually our discussions led us on to look at peace and in particular a Christian understanding of peace.
Was it the absence of noise, warfare, and terrorism? Or was it peace in terms of silence, or peace in terms of the absence of inner turmoil?
Into this world of violence and inner turmoil, Jesus came to bring peace, bringing a radical understanding built upon the Old Testament idea of "Shalom". This is not so much about the absence of certain factors, being empty or devoid of trouble, but rather about the presence of goodwill, the presence of love, and the encouragement of relationships which build upon forgiveness, reconciliation and unity. For Jesus peace is about the presence of well-being and of wholeness.
In Christian terms, peace is not simply absence, but presence; not simply passive, but active. In the Sermon on the Mount, Jesus proclaimed the peacemakers as "blessed", in so far as they were not just to be about preventing warfare or stopping fighting, but rather that they have an active role in promoting reconciliation and developing the kind of communities of relationship which build for peace, engender harmony, and establish trust. It is a call to us, through discipleship, to take up that role, wherever we are and whatever situations we find ourselves in.
The peace that Christ offers also concerns inner transformation and renewal. This is not simply a call to engage with those around us, whilst wallpapering over the painful cracks in our own lives. Rather, it involves a process of becoming at peace with ourselves, a journey which calls us to be vulnerable and reconcile our own struggles, flaws and failings. Through this renewal, we not only deepen our own walk with God, but walk in humility with others in seeking make and build peace.
So as we approach Remembrance Sunday once more, let us not only seek peace for those areas currently striven with conflict, but look the peace we might build around us, forged out of an understanding of what it is to be at peace with ourselves and God.
Prayers
The Peace for Lent and Passiontide: MWB
In Christ, God was pleased to reconcile to himself all things, whether on earth or on heaven, by making peace through his blood, which is shed on the cross.
The peace of the Lord be always with you.  Amen
A Prayer for Mosul
O Lord Jesus,
Stretch forth your wounded hands in blessing over your people, to heal and restore, and to draw them to yourself and to one another in love. Amen
A prayer for Ourselves
Lord, I am part of the tension and injustice of the world.
Forgive our human selfishness, to which I contribute;
Heal the resentment between people, of which I am part;
And come into the world's conflicts, in which I share by being human.
Take my unworthiness and sorrow, and use them in your great work of healing and redeeming humanity. Amen
Rev Julia October 2016