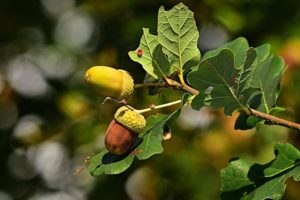 Looking out of my patio window as I write this letter, I'm surprised by the amount of brown leaves appearing on the
oak tree at the bottom of my garden. On closer inspection, I actually realise that many leaves have already fallen, and
my lawn is covered in acorns.
It only seems like a couple of weeks ago I was enjoying the brilliant green of new life as the leaves first appeared in
the spring. How time is flying even in these strange times! But as the Bible reminds us in Ecclesiastes 3;
There is a time for everything,
and a season for every activity under the heavens:
a time to be born and a time to die,
a time to plant and a time to uproot,
a time to kill and a time to heal,
a time to tear down and a time to build,
a time to weep and a time to laugh,
a time to mourn and a time to dance,
a time to scatter stones and a time to gather them,
a time to embrace and a time to refrain from embracing,
a time to search and a time to give up,
a time to keep and a time to throw away,
a time to tear and a time to mend,
a time to be silent and a time to speak,
a time to love and a time to hate,
a time for war and a time for peace.
This reading tells us there is a time for everything, even…
A time to isolate
A time to mix
A time to meet for worship
A time to stay home
A time to shake hands and embrace
And a time to refrain
As we prepare at this time to return to church, we will return to a new normal.
In this edition of the Clarion there is a list of protocols and procedures to which we must adhere.
So, this is not a time to be carefree, but a time to be cautious and considerate of others.
I'm sure a time will come when we will be able to return to some of the traditions and practices we are missing at the
moment.
But as this time, please be mindful and understanding of the efforts that have been made in our churches to keep us all safe.
Looking forward to seeing you all soon,
Pastor Steve