Autumn Leaves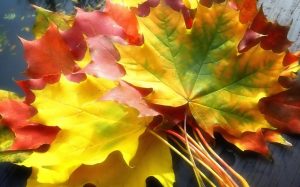 I think one of my favourite times of year is the autumn, when the leaves turn and start to fall. Autumn's an oxymoron really, as it's the 'end' of a 'never-ending' circle of life, as we await the spring and the new life it brings.
For us too, life can sometimes seem to go in stages or seasons. We can go through times of joy and times of sadness, times of great excitement and times of apathy, times when life seems to be rolling down hill and we don't have any cares, to uphill sections when life is tough and we sometime struggle to see the summit.
And all this change in life can, and does, give us a sense of unease and instability.
The Prophet Jeremiah, lived one of the most dramatic lives in the Bible. But he never learned to like his role. Through all the excitement he remained reluctant, insure, and often unhappy. His life sounds very much like ours at times; excitement, reluctance, insecurity, unhappiness etc.
But throughout Jeremiah's life and ours, there is something that we can rely on that is always the same and always there, that is our Father God. So, no matter our circumstances, no matter our problems or joys, we have a consistency in Him; we have something to bed ourselves on.
Jeremiah 17: 7-8 says; 7 'Blessed is the one who trusts in the Lord, whose confidence is in him. 8 They will be like a tree planted by the water that sends out its roots by the stream. It does not fear when heat comes; its leaves are always green. It has no worries in a year of drought and never fails to bear fruit.' [NIV-UK]
In this reading we're not promised to be protected when the 'heat' comes, but we are promised that we have nothing to fear when it does, and that we can still 'bear fruit' even when times are difficult. This was Jeremiah's experience.
So, whatever you're feeling or experiencing today, remember to sink your roots into the Rock of Ages and you too, will always bear fruit, in season, and out.
Blessings,
Pastor Steve Mayo, November 2017