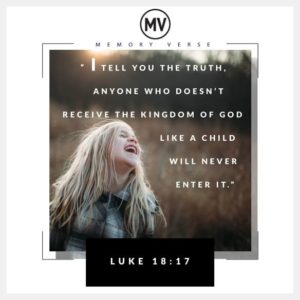 I attended a Memory Worship (dementia friendly service) at one of my churches this month, where some very young
children from the pre-school nursery, joined us to sing their rainbow song.
Seeing these children sat there waiting for their performance, reminded me of what the Bible says about children and faith.
Children accept things as truth, without question, whether that's the existence of Father Christmas, or a simple belief
in the existence of God.
But as we mature in age and spirituality, we seem to lose that simple form of faith that children have. We start to
question, and at times we can become very sceptical of what we read and hear about in the Bible.
Now, I don't think it's right for us to have a totally 'blind faith', but we do need to understand that we will never fully understand the mysteries of our God this side of heaven. 1 Corinthians 13:12 says; 'For now we see only a reflection
as in a mirror; then we shall see face to face. Now I know in part; then I shall know fully, even as I am fully known.
[NIVUK]
We see total awe in the faces of children as they learn something new and as they soak up the environment around them.
We too, need to keep that sense of awe as we too learn more about our Heavenly Father and the plans he has for
each of us as His children.
My prayer for each one of us is that God would invigorate each of us in future days as we journey with Him through
life.
Every blessing,
Pastor Steve