We are pleased to announce that we are gradually restarting our on-site worship and activities. Please see the details below which will be updated as new worship and activities resume – others will follow in due course. The Covid Guidance Update at the bottom of the page gives details on the guidance we strongly encourage you to follow whilst on the premises, to help protect yourself and others.
We appreciate that not everyone will feel able or comfortable returning to public worship, and so our online worship will continue – please see our page Worship at Home for details of online worship, worship resources, how to access prayers and support by telephone, and how we continue to support each other and our wider community.
Details on the return of our other activities will follow over the coming weeks and months – stay tuned!
Sunday Morning Worship
Sunday morning worship in the church sanctuary has now resumed! Services are at 11am (unless otherwise stated).
Inspire – Contemporary Worship
Inspire will be restarting from Sunday 16th May. Services are at 5.30pm and are held monthly, on the third Sunday of the month (please note the June service will be on the 4th Sunday of the month, 27th June rather than the 20th, as we will be allowed to sing in church from June 21st).
The Sanctuary Cafe
Our new cafe in the church sanctuary will be opening on Saturday 22nd May!
Opening Times
Fridays & Saturdays 10am to 1pm
Come along for tea, coffee, soft drinks, homemade cakes and biscuits!
Memory Worship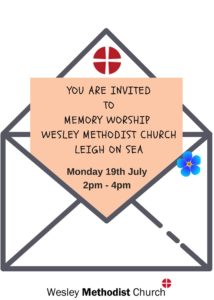 Worship for those with and without dementia.
Memory Worship will be restarting back at Wesley on Monday 19th July at 2pm!
We will still be providing a Memory Worship at Home service for those unable to attend in person.
Time for Prayer
Prayer meeting held in the Church Sanctuary; 11.30am on the third Saturday of the month. All welcome!
Creative Worship
An opportunity to worship in a relaxed setting. Delve deeper in your relationship with God in new ways, so much different to traditional Sunday worship. Every 4th Tuesday in the month (except December 2021). Restarting 26th October 2021.
Covid Guidance Update
Whilst there are no longer legal requirements on places of worship, both the Methodist Church and the UK Government are still advising caution because of rising case numbers. We want to make sure that everyone will feel safe and comfortable within the church building, and will therefore be implementing the following guidance, and we strongly encourage you to observe this whilst on the premises to help protect yourself and others:
Hand sanitiser, track and trace records and face coverings to remain.
Singing will be allowed, with masks on.
Social distancing – chairs will be socially distanced for worship, meetings etc. Please try and maintain social distancing, especially when greeting others, and be aware that not everyone will be comfortable with the relaxation of legal social distancing rules.
Coffee after the service will return, at the rear of the Sanctuary. Face coverings can be removed when seated for drinks.
All the churches in our section will be taking these same precautions going forward.
This guidance will be reviewed each month, taking into account any changes to national and Methodist Church guidance and the local Covid case rate, and any amendments will be posted here.