Memory Worship is returning to Wesley Methodist Church on Monday 19th July 2021 at 2pm!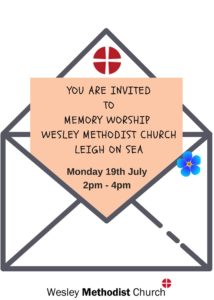 Memory Worship and Memory Worship at Home – worship for those with and without Dementia
What is Memory Worship and who is it for?
It is our vision in Memory Worship, that people with or without dementia can approach God, worship and praise God and feel God's caring presence together. Worship can be a channel for recalling the past, creating feelings of comfort, familiarity and spiritual fulfillment. We all have a continuing need to worship and experience a loving encounter with God and the afternoon will take a regular pattern of welcome; singing well-known hymns, reading familiar passages of scripture and saying the Lord's Prayer together. The formal part of the service will last 30 minutes, before leading into a craft activity and hospitality, which provide an opportunity for conversation to reinforce the theme of the service. Memory Worship is held monthly using a consistent and informed group of volunteers.
Memory Worship takes place from 2pm-4pm on the 3rd Monday of the month at Wesley.
Memory Worship also takes place from 2pm-4pm on the 1st Monday of the month at Thorpe Bay Methodist Church. A leaflet with further info is available at the link below. Their address is: The Broadway, Thorpe Bay, Essex, SS1 3HQ. Tel: 01702 589263. You can find their website by clicking here
Memory Worship at Home
Online Memory Worship services are available each month. You can find an archive of the videos from April 2020 onwards on Julie's YouTube Channel by clicking
here.
The latest Memory Worship online service information and link is available below:
July 2021 – The theme of our service today is 'In God's name we pray' and as Methodists we are familiar with singing our faith; we even have a hymn book with this title. Not being able to sing as part of worship for over a year has been very sad. So, for some of us who are meeting at Wesley this month for the first time for over a year this opportunity to raise the rafters is heartfelt.
However, for those of us who are a little too far away from Leigh on Sea to join in person here is the link to 
Memory
Worship
 at home in the usual way.
Memory Worship at Home for July 2021 is available to view on YouTube by clicking
here.