Harvest Home and Fidget Pie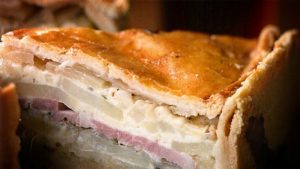 Harvest celebrations are one of the worlds oldest festivals, predating Christianity and celebrated by the both the Ancient Greeks and the Romans. In Britain the first corn was cut at Lammas Time, on the 1st August. It was originally a pagan festival, but gradually it developed into a Christian one, something very similar to the Jewish Shavuot, the Festival of the First Fruits.
The cutting of the last sheaf at the end of the harvest was usually accompanied by the sacrifice of an animal, often a hare. Gradually this was replaced by making a model of the animal, a corn dolly, which was hung in the farmhouse until harvest the following year. Farm workers and their families were then given a celebratory meal, the Harvest Home, as a thank you for all their hard work.
The first church Harvest Festival was introduced by Rev'd Robert Hawker in 1843 in his parish of Morwenstow. He wanted to give thanks to God for providing such plenty, following a hard and difficult winter. After singing songs of praise and gratitude, the harvest loaf, made from the choicest grain, was used as communion bread.
In other places in the country, not so fortunate to have such well-fertilized soil, the bread eaten by the poor was called maslin, and was made from a mixture of wheat and rye flour. In colder and wetter places, bread flour was made from barley and oats and if the harvest was poor, weeds were often included in the grain. For those with very little, acorns and beans were were ground down as flour and the bread produced was called horse bread.
My grandma, when she was alive, used to be a good pastry chef. She had a light touch and her pies and tarts were "melt in the mouth" good. One of her favourites pies at this time of year, when the apples had been picked, was a harvest Fidget Pie, so called because it use to be 'fidget,' or five sided in shape. If times were a bit hard, it contained only apples and vegetables, but most of the time it contained gammon or bacon too.
Sadly, my grandma did not pass the cooking gene on to me, but to my daughter Beth. She is a good cook and she tells me that the well-known chefs called The Hairy Bikers, do a good Fidget Pie recipe. She says that you put the bacon, apple and onion in layers in a pie dish, seasoning with salt, pepper and nutmeg as you go. Add apple cider and cover with pastry, either short crust or flakey. Make a diagonal cut in the top and fold back the points of pastry. Paint on the glaze of egg mixed with a little water and bake at gas mark 5 (190oC) for 45 minutes. So give it a go, and remember to bring me a slice to church on a Sunday to taste after the service. It will make a good addition to the coffee and I look forward to eating it.
Our liturgy at this time of year of course reminds us that alongside our praise and thanksgiving, we are mindful of the systems of injustice of which we are a part, that result in the unfair distribution of food. Christian worship has never traditionally sought to offer thanksgiving, which omits any mention of human betrayal of the gift. After all, at the heart of Holy Communion, we remember that it was, "on the night that he was betrayed," that Jesus, "took bread, gave thanks and broke it."
So along with the Fidget Pie, I offer you this liturgy from Brian Wren, to feed your soul and turn your heart towards the grace of Christ.
Amen  Rev Julia September 2017                                                                            
Litany: What do you bring?
What do you bring to Christ's table?
We bring bread,
made by many people's work
from an unjust world
where some have plenty
and most go hungry.
At this table, all are fed
and no one turned away.
Thanks be to God
What do you bring to Christ's table?
We bring wine,
made by many people's work
from an unjust world
where some have leisure
and most struggle to survive
At this table, all share the cup
of pain and celebration
And no one is denied.
Thanks be to God
These gifts shall be for us
the body and blood of Christ,
Our witness against hunger,
our cry against injustice,
And our hope for a world
where God is fully known
And every child is fed.
Thanks be to God
Brian Wren, from 'Bread of Tomorrow', ed. Janet Morley